The UCU website has a some great info on why we are taking industrial action along with also general FAQs, and there's a OU UCU leaflet on why we are taking action as well as a news item authored by two OU staff members.
Striking is effective
At this point after extensive action we all expected negotiations and progress in the pensions and Four Fights disputes.  
Instead the leadership of the OU, like the rest of the members of Universities UK and UCEA, wants to wait us out. They are hoping we will grow discouraged and give up.  
The stakes are too high and the situation is too serious. Until now, many people didn't believe that the OU would actually vote to cut our pensions and didn't understand what the effects would be if these massive cuts went ahead. For many this means extra years of work and a massive reduction in retirement income.  
In 2018 when we were told that there was no alternative to the end of USS as a defined benefit scheme, we won. 
In 2020 negotiations on the Four Fights got very close to success before Covid knocked us back. 
Efforts such as those at Royal College of Art, which recently secured a superb deal on job security and workload, show us that industrial action works.  
Pensions: Action for USS
Both UCU and USS have created their own pension change modellers which estimate how the current changes will effect you. Both modellers show significant pension cuts. For example, the USS modeller indicates that cuts to guaranteed, defined benefit pensions built up in the future would amount to a loss of 41% for a USS member earning around £39k. 
In February the Open University agreed to these cuts, cutting staff pensions by 35% on average. These massive cuts are totally unnecessary.
OU leadership can't do anything to influence the pensions dispute as it's between UUK, UCU and USS, isn't it?
UCU put forward proposals for temporary cost rises planned in 2018 to go ahead to buy time for a new valuation but the OU refused to consider these or to do an equality impact assessment comparing the two plans.
OU leadership have had opportunities on many occasions to say publicly and to UUK that they do not agree with the timing or results of the March 2020 USS valuation, and that OU staff deserve a fairer deal. Public recognition that the current pensions offer is inadequate from OU leadership could encourage a better offer to be negotiated.
More information
There's two USS pension explainer podcasts (with transcripts) which feature UCU USS negotiator, Sam Marsh and OU branch of UCU vice president, Kit Power.
UCU also has a host of resources including FAQs and news on pensions and the USS dispute.
We've also got a pensions leaflet summarising the situation.
Four Fights: Low pay, casualisation, workload and inequality
Below is a summary of the present situation (what we are fighting against) and our proposals (what we are fighting for):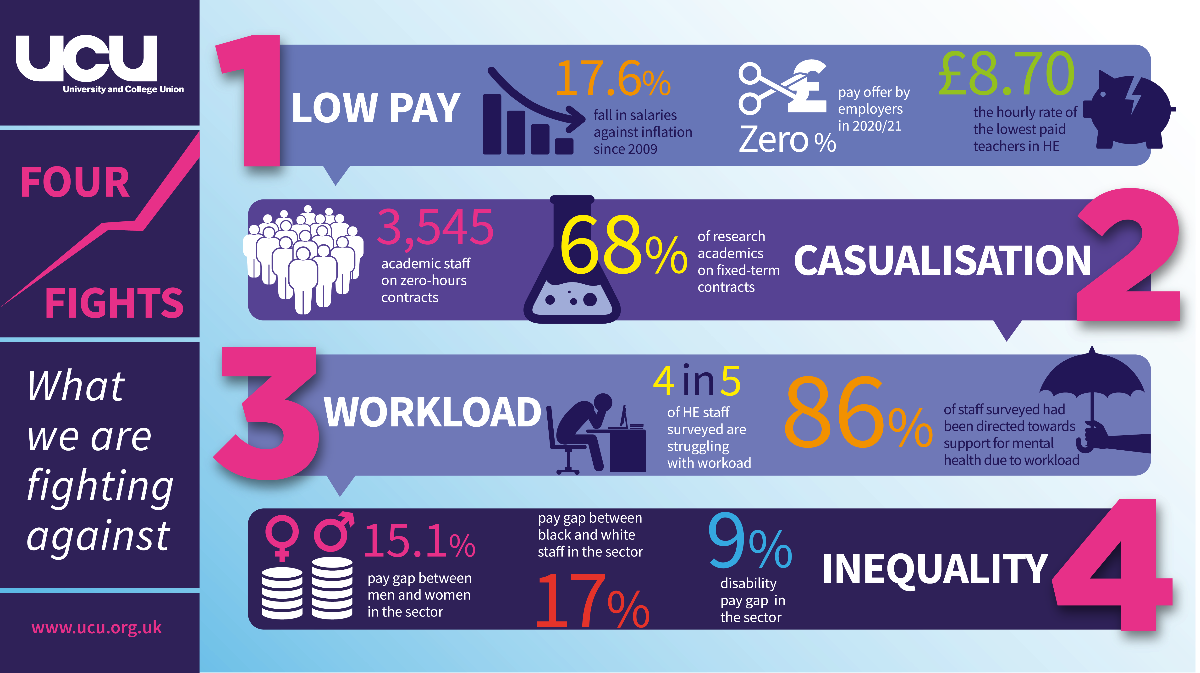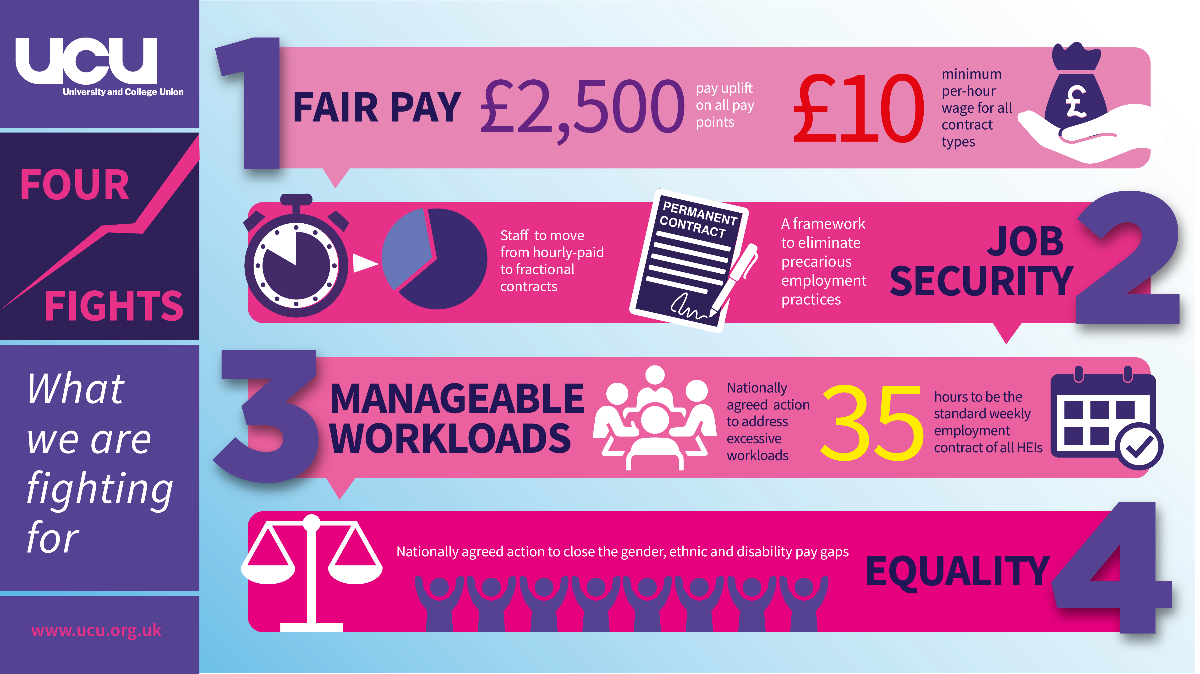 Across the sector, we have experienced a massive cut of real terms pay against inflation, the 17.6% figure was from July 2021, but now, due to massive cost of living increases, it's been calculated to be around 25%. We are also experiencing widespread casualisation, massive workloads and large gender, race and disability pay gaps. 
More information
Find out more about the OU's specific situation in our Equality and Workload leaflets.