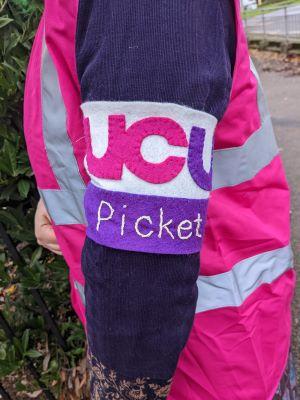 Members of the Nottingham Clarion Choir joined our picket line at the OU office in Nottingham on one of the strike days in November 2022. One of our members took these videos and she is happy for us to share them. The same UCU member also made a beautiful picket arm band in the photo on this page. 
Further information about the Choir is on their website.
Videos of the Choir singing.
https://photos.app.goo.gl/ocr3EqmmLHTNLHLf7
https://photos.app.goo.gl/g3UBKWmZ5EagJg8w5
https://photos.app.goo.gl/uy1XaGY3Eg7wjBdNA
https://photos.app.goo.gl/xxE5ygoBYwuuLLPG9
https://photos.app.goo.gl/kXL1VDe7yFZqEnGNA
https://photos.app.goo.gl/vpEjnoLugjtCTf9m6
https://photos.app.goo.gl/fW4Yvdd2qc1wNUC3A