USS plus Pay & Equality disputes
STRIKE DATES now announced, 1st to 3rd December 2021. Action short of strike, no later than 3rd May 2022 - view press release
Do you want to know why we are in dispute? Are you interested in learning what events are planned to take place during industrial action? Is this the first time you are taking strike action and you are not sure how you can fully contribute? This page provides useful information about current and past campaigns. If you can't find what you are looking for, email our mailbox for more information and help: ucu@open.ac.uk
Picket lines will be held at these OU offices on the following strike days, there will only be a picket line at Milton Keynes on the first day.
Day 1 - 1st December – Walton Hall, Milton Keynes & Edinburgh office (8am to 9.30am)
Day 2 – 2nd December – Nottingham (8am to 9.30am)
Day 3 – 3rd December – Manchester (8am to 9.30am)
Central UCU and OUBUCU have organised for a range of interactive online sessions to be held over the duration of industrial action. OUBUCU sessions will involve topics such as lobbying your MP, food insecurity and equality
Strike days online rallies
Day 1 - Four Nations, Two Disputes Video of our Day 1 online rally: https://youtu.be/tgZxhtZP9p8 - 1st December 2021
View transcript of the day 1 video
Day 2 - Branch Solidarity Day - including speakers from Goldsmiths and Sheffield
video and transcript to be added
Day 3 - Job Insecurity and Food Insecurity - highlighting precarious work and its effects, with a focus on community outreach
video and transcript to be added
Why are we taking industrial action?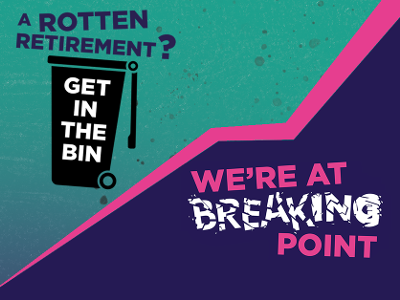 Detailed information about the two disputes can be found on: the UCU website: HE disputes page
You can also listen to two USS pension explainer podcasts (with transcripts) which feature UCU USS negotiator, Sam Marsh and OUBUC vice president, Kit Power.
UCU and USS have created their own pension change modellers which estimate how the current proposed changes will effect you. Both modellers show significant pension cuts. For example, the USS modeller indicates that cuts to guaranteed, defined benefit pensions built up in the future would amount to 41% for a USS member earning around £39k.
This is a national dispute between UUK and UCU isn't it?
OU leadership have had opportunity on many occasions to say publicly that they do not agree with the timing of the March 2020 USS valuation or that a better deal can be agreed between UUK and UCU. Leadership at other universities, such as Essex have spoken to the media and showed support for their employees. Public recognition that the current pensions offer is inadequate from OU leadership could encourage a better offer to be negotiated.
This song created in support of OUBUCU explains the reasons as to why industrial action is being taken nicely :) .
Branch Hardship fund
Our branch is lucky to have a hardship fund available which reduces the financial burden of taking strike action. To learn more about accessing it visit our branch hardship fund page.
A key reason for the strength of our hardship fund is due to the generous donations received. If you want to donate to our Branch Hardship fund then please send an email to ucu@open.ac.uk pledging the amount you wish to donate, or you can make a bank payment to this account:Sort code: 60 83 01 and Account number: 20392138<
Unity Trust bank, account name: UCU the Open University LA064 Hardship fund
Or you can post a cheque payable to "UCU the Open University LA064 Hardship fund" to the UCU Office, Room 015, Wilson C Block, The Open University, Walton Hall, Milton Keynes MK7 6AA.
What can I do?
1. (the big one!) Withdraw your labour (pro rata) during the strike period. Remember there's a hardship fund if needed.
And in the extra time this gives you, you can do some or all of these 5 actions:
2. Log in to our online Zoom meeting at 10am on Wednesday morning to learn more about what we can do together
3. Lobby and campaign – strike days are an opportunity to get the union's case across to the public and to government. We'll be talking more about how we can support each other in that at the Wednesday Zoom meeting
4. Join a picket of an OU site
5. Solidarity activity! On Thursday morning we're going to see how many other HEI picket lines our branch members can visit. On Friday we're hoping to link up with local food banks
6. Teach out. Attend one of UCU's 'Teach out' sessions scheduled between 1-3rd December
If you are reading this and you have decided not to take strike action, you can still support the campaign and your peers by making a donation to our Branch Hardship Fund.
What is action short of a strike (ASOS)?
We are also entering a period of ASOS from the 1st December which will last until no later than the 3rd May 2022.
UCU explains Action Short of a Strike as follows:
While a strike is a concerted stoppage of work, action short of a strike (ASOS) is normally action which affects only certain aspects of your work. Since the changes introduced by the Trade Union Act 2016 we have to determine and ballot members regarding the types of action short of strike we are calling. Action short of a strike in these disputes means we are asking you to:
-work to contract*
-not cover for absent colleagues
-not reschedule lectures or classes cancelled due to strike action
-not undertake any voluntary activities
- not undertake any additional marking responsibilities
OUBUCU will publish its own guidance as to what ASOS means shortly.