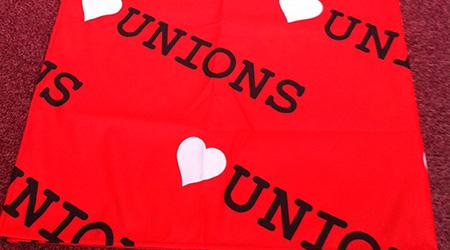 Our Branch Equality Officer, Denzil de Souza attended the TUC Discrimination Law conference, along with one of our AL reps, Kevin McNerney.  Denzil's full report is on our blog and here are some extracts from that report.
https://oubucu.wordpress.com
One particular thread running through the conference was Brexit and its impact on the law in the UK. Another blow to "equality" in the UK is that the funding for Equality and Human Rights Commission (EHRC), the body tasked with upholding workers' rights as part of its remit, has been cut by 25%.
Judge Shona Simon in her keynote address, provided the audience with some interesting facts. None more so than the fact that the government has hired G4S as its employment tribunals (ETs) advisor. In addition, since tribunal fees were introduced there has been an 80% fall in claims taken to ETs. There is a consultation currently being carried out, with a view to modernising and reforming the ET and Employment Appeals Tribunal (EAT) systems.
Further information: https://consult.justice.gov.uk/digital-communications/review-of-fees-in-employment-tribunals.
Rachel Crasnow's presentation on pregnancy and discrimination raised some interesting issues around choices and parental rights, "proving disadvantage", Shared Parental Leave (SPL) and of course, the impact of Brexit. In essence, both the employer and employee need to know what their choices are in relation to this topic.
Robin Allen's interesting and illustrative cases relating to discrimination due to religious belief and sexual orientation also proved very enlightening and informative. The claim by an assailant, who murdered a newsagent in Glasgow, that he was motivated by his religious belief to commit murder was thrown out by the judge. The convicted man's appeal against his minimum 27-year sentence was also not upheld.
Almost all of Sean Jones' presentation was dedicated to the famous case of FirstGroup PLC v Paulley [2017], where Mr Paulley a wheelchair user was denied entry to a bus because a carer who had a baby in a pram didn't want to vacate the wheelchair-designated space. "Mr Paulley issued proceedings in the Leeds County Court against FirstGroup for unlawful discrimination against him on the ground of his disability. His claim was based on the proposition that FirstGroup had failed to make "reasonable adjustments" to its policies contrary to section 29(2) of the Equality Act 2010". Basically, the final judgement by the Supreme Court on appeal, found in favour of Mr Paulley.
Further information: https://www.supremecourt.uk/cases/uksc-2015-0025.html.
Finally, from my perspective, three important questions arose from the conference. Firstly, the question asked by all the presenters, in light of Brexit, was what the UK's future relationship with the EUCJ would be and whether it would have access to both the European Law and subsequent case law. Secondly, whether equality issues are being given the credence they deserve by the UK government or not in light of the cuts to the EHRC. Thirdly, the issue of tribunal fees and how they are being addressed. In my opinion they should be scrapped.
Denzil DeSouza,
Equality Officer, OU branch of the UCU
Further information: https://www.tuc.org.uk/equality-issues